Održan prvi od dva koncerta u znak sećanja na Tejlora Hokinsa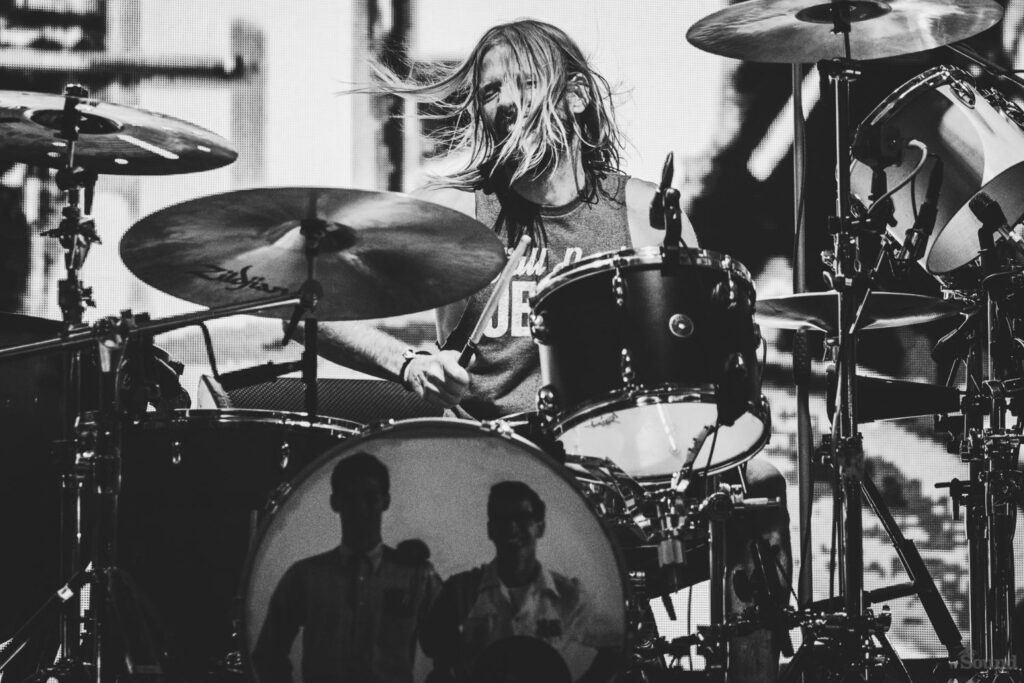 U Londonu je održan prvi od ukupno dva koncerta u znak sećanja na prerano preminulog Tejlora Hokinsa, bivšeg bubnjara grupe Foo Fighters.
Hokins je preminuo u 50. godini tokom turneje Foo Fightersa u Kolumbiji. Uzrok smrti još nije otkriven. Koncert je održan na stadionu Vembl iu Londonu u Engleskoj.
Koncert je otvoren obradom pesme "Rock 'N' Roll Star" grupe Oasis. Pesmu je otpevao Liam Galager, a bubnjeve odsvirao Dejv Grol. Na koncertu su nastupile mnoge zvezde, a vredi izdvojiti i povratak nekih bendova koji nisu dugo nastupali. Tako su se Them Crooked Voltures okupili posle 12 godina za ovaj događaj.
Osim njih, grupa James Gang takođe je nastupila prvi put posle 16 godina posebno za ovu priliku. Nil Rodžers, Omar Hakim i Kris Čejni (Jane's Addiction) zajedno su uz Džoša Homa obradili pesmu "Let's Dance" Dejvida Bouvija. Osim nje, otpevali su i pesmu "Modern Love", a s njima je na bini bio i Gaz Kumbes (Supergrass). Bend Chevy Metal, cover grupa koju je predvodio pokojni Hokis, izvela je pesmu "Children of the Revolution", a na pesmi im se pridružila pevačica Keša.
Brajan Džonson iz AC/DC izveo je pesme "Back in Black" i "Let There Be Rock" uz pratnju Larsa Ulriha iz Metallice i Foo Fightersa. Brajan Mej i Rodžer Tejlor, dvojac iz legendarnog Queena ukupno su izveli, zajedno s Foo Fightersima, pet pesama, a na njima je gostovao i sin Rodžera Tejlora, Rufus. Izveli su "We Will Rock You", "I'm in Love With My Car", "Under Pressure", "Somebody to Love" i "Love of My Life".
Na koncertu su još učestvovali i Stjuart Kopland (The Police), The Pretenders, Gedi Li i Aleks Lajfson (Rush), Supergrass i Volfgang Van Hejn. Grolova ćerka Vajolet Grol takođe je nastupila na ovom humanitarnom koncertu i to prilikom obrade pesme "Valerie" (pesma Ejmi Vajnhaus) zajedno s Markom Ronsonom.
Poseban gost svakako je bio Ser Pol Makartni koji je zajedno s Krisi Hajnd izveo pesmu "Oh! Darling". Ovo je bio prvi put da je Makartni izveo navedenu pesmu u duetu otkako je pesma objavljena davne 1969. godine. Osim nje, takođe je izveo i pesmu "Helter Skelter". Na koncertu je nastupio i sin pokojnog Tejlora Hokinsa, šesnaestogodišnji Šejn Hokins. Nastup je zaključen solo deonicom Dejva Grola i pesmom "Everlong2. Ukupno je izvedeno 50 pesama tokom celog koncerta.
Sva zarada od koncerta biće podeljena između dve fondacije: Music Support i MusiCares, a obe je odabrala Hokinsova porodica. Drugi koncert održaće se 27. septembra u dvorani Kia Forum u Los Anđelesu u SAD.
spisak svih pesama i izvođača
Foo Fighters i Liam Gallagher
1. Rock 'n' Roll Star (Oasis cover)
2. Live Forever (Oasis cover)
Nile Rodgers, Chris Chaney i Omar Hakim
3. Let's Dance (Davie Bowie cover ft. Josh Homme)
4. Modern Love (David Bowie cover ft. Gaz Coombes)
Chevy Metal
5. Psycho Killer (Talking Heads cover)
6. Children Of The Revolution (T. Rex cover ft. Kesha)
Justin Hawkins, Josh Freese i The Coattail Riders
7. Louise
8. Range Rover Bitch
9. It's Over
Wolfgang Van Halen, Dave Grohl, Justin Hawkins i Josh Freese
10. On Fire (Van Halen cover)
11. Hot For Teacher (Van Halen cover)
Violet Grohl, Dave Grohl, Alain Johannes, Chris Chaney, Greg Kurstin i Jason Falkner
12. Last Goodbye (Jeff Buckley cover)
13. Grace (Jeff Buckley cover)
Supergrass
14. Richard III
15. Alright
16. Caught By The Fuzz
Them Crooked Vultures
17. Goodbye Yellow Brick Road (Elton John cover)
18. Gunman
19. Long Slow Goodbye
Pretenders i Dave Grohl
20. Precious
21. Tattooed Love Boys
22. Brass In Pocket
James Gang
23. Walk Away
24. The Bomber: Closet Queen / Bolero / Cast Your Fate To The Wind
25. Funk #49 (ft. Dave Grohl)
Violet Grohl, Mark Ronson, Chris Chaney i Jason Falkner
26. Valerie (The Zutons cover)
Brian Johnson, Lars Ulrich i Foo Fighters
27. Back In Black
28. Let There Be Rock
Stewart Copeland i Foo Fighters
29. Next To You
30. Every Little Thing She Does Is Magic
Geddy Lee i Alex Lifeson (Rush)
31. 2112 Part 1: Overture (ft Dave Grohl)
32. Working Man (ft Dave Grohl)
33. YYZ (ft Omar Hakim)
Brian May, Roger Taylor, Rufus Taylor i Foo Fighters
34. We Will Rock You (ft Luke Spiller)
35. I'm In Love With My Car
36. Under Pressure (ft Justin Hawkins)
37. Somebody To Love (ft Sam Ryder)
38. Love Of My Life
Foo Fighters
39. Times Like These (ft Josh Freese)
40. All My Life (ft Josh Freese)
41. The Pretender (ft Travis Barker)
42. Monkey Wrench (ft Travis Barker)
43. Learn To Fly (ft Nadi Bushell)
44. These Days (ft Rufus Taylor)
45. Best Of You (ft Rufus Taylor)
Paul McCartney, Chrissie Hynde, Dave Grohl, Omar Hakim i Pat Smear
46. Oh! Darling
47. Helter Skelter
Foo Fighters
48. Aurora (ft Omar Hakim)
49. My Hero (ft Taylor Hawkins' son Oliver)
50. Everlong