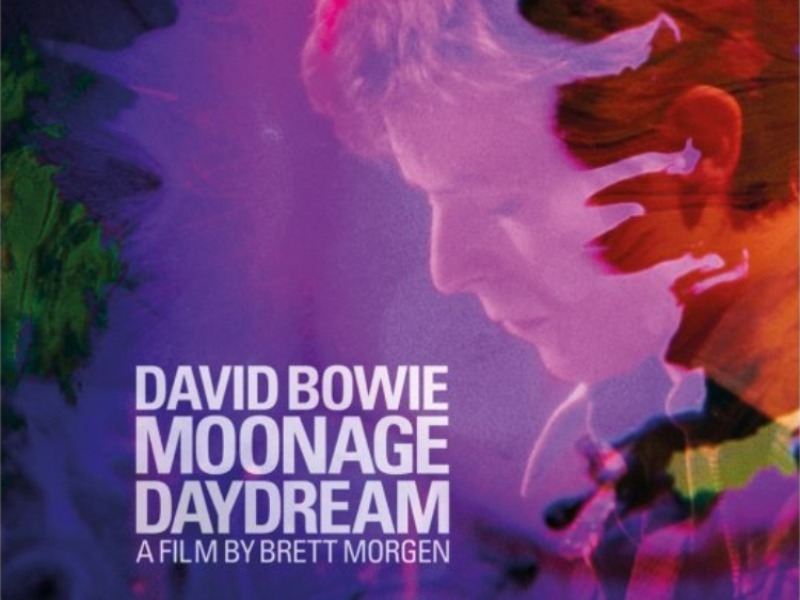 Predstojećem dokumentarcu o Dejvidu Bouviju "Moonage Daydream", pridružiće se i propratni album.
U režiji Breta Morgana, "Moonage Daydream" u bioskope stiže 16. septembra kada će Parlophone objaviti i digitalno izdanje albuma. Izdanje na 2 CD-a će uslediti 18. novembra, a trostruki LP trebalo bi da se pojavi sledeće godine.
Album sadrži neobjavljene verzije, pesme uživo i mikseve stvorene isključivo za film. Tu je i prethodno neobjavljeni live medley "The Jean Genie / Love Me Do / The Jean Genie" snimljen uživo na završnom koncertu Ziggyja Stardusta u Hammersmith Odeonu 1973. s Džefom Bekom na gitari. Ostale retkosti uključuju ranu verziju "Quicksand" i prethodno neobjavljenu live verziju "Rock 'n' Roll With Me" sa Soul turneje iz 1974. godine.
Spisak pesama:
"Time… one of the most complex expressions…"
Ian Fish U.K. Heir (Moonage Daydream Mix 1)
Hallo Spaceboy (Remix Moonage Daydream Edit)
Medley: Wild Eyed Boy From Freecloud / All The Young Dudes / Oh! You Pretty Things (Live)
Life On Mars? (2016 Mix Moonage Daydream Edit)
Moonage Daydream (Live)
The Jean Genie / Love Me Do / The Jean Genie (Live) (featuring Jeff Beck)
The Light (Excerpt)*
Warszawa (Live Moonage Daydream Edit)
Quicksand (Early Version 2021 Mix)
Medley: Future Legend / Diamonds Dogs intro / Cracked Actor
Rock 'n' Roll With Me (Live in Buffalo 8th November, 1974)
Aladdin Sane (Moonage Daydream Edit)
Subterraneans
Space Oddity (Moonage Daydream Mix)
V-2 Schneider
Sound And Vision (Moonage Daydream Mix)
A New Career In A New Town (Moonage Daydream Mix)
Word On A Wing (Moonage Daydream Excerpt)
"Heroes" (Live Moonage Daydream Edit)
D.J. (Moonage Daydream Mix)
Ashes To Ashes (Moonage Daydream Mix)
Move On (Moonage Daydream acappella Mix Edit)
Moss Garden (Moonage Daydream Edit)
Cygnet Committee/Lazarus (Moonage Daydream Mix)
Memory Of A Free Festival (Harmonium Edit)
Modern Love (Moonage Daydream Mix)
Let's Dance (Live Moonage Daydream Edit)
The Mysteries (Moonage Daydream Mix)
Rock 'n' Roll Suicide (Live Moonage Daydream Edit)
Ian Fish U.K. Heir (Moonage Daydream Mix 2)
Word On A Wing (Moonage Daydream Mix)
Hallo Spaceboy (live Moonage Daydream Mix)
I Have Not Been To Oxford Town (Moonage Daydream a cappella Mix Edit)
"Heroes": IV. Sons Of The Silent Age (Excerpt) *
★ (Moonage Daydream Mix Edit)
Ian Fish U.K. Heir (Moonage Daydream Mix Excerpt)
Memory Of A Free Festival (Moonage Daydream Mix Edit)
Starman
"You're aware of a deeper existence…"
Changes
"Let me tell you one thing…"
"Well, you know what this has been an incredible pleasure…"
* u izvedbi Simfonijskog orkestra Bournemoutha pod dirigentskom palicom Marina Alsopa