Džejms Hetfild i Lars Ulrih nemaju pojma kada su i kako upoznali Kirka Hameta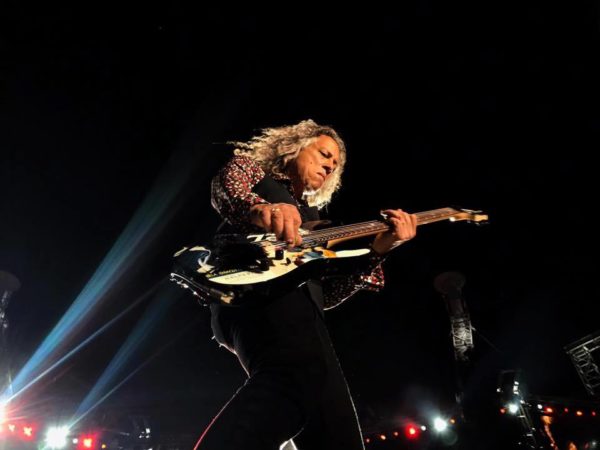 Gitarista Metallice Kirk Hamet izjavio je kako se njegove kolege iz benda ne sećaju kad su ga upoznali i kako je ušao u bend.
Hamet se pridružio Metallici 1983. godine, a pre toga svirao je u bendu Exodus.
U podužem novom intervjuu za Gibsonovu seriju "Ikons", Hamet se setio da se prvi put sreo s parom kad je Exodus svirao ispred Metallice, susreta kojeg se njegove kolege iz benda – ne sećaju.
Hamet je objasnio:
– Exodus je bio bukiran za koncert jer smo bili prijatelji s glavnim bendom, to je bio bend koji se zvao Laaz Rockit, a bend u sredini je bila Metallica. A mi smo bili u raspoloženju, kao; "Ovo je super. Sviraćemo s Metallicom. To je odlično".
– I sećam se kad smo svirali koncert u klubu je bilo možda stotinak ljudi. A onda je Metallica nastavila i mesto je bilo prepuno. Ne znam odakle su ljudi došli, ali odjednom su se jednostavno pojavili – izjavio je Hamet.
Potom je nastavio:
– Sledeće večeri bio je benefit koncert za magazin Metal Mania i zatražili smo da ponovo sviramo s Metallicom. I bila je bolja situacija, jer smo tada bili samo mi i Metallica. S tim sam se momcima prvi put sreo u svlačionici Mabuhay Gardensa, koja uopšte nije bila velika svlačionica; bilo je poput slepe uličice. To je bio početak moje "veze" s njima. I stvarno je smešno, jer godinama posle toga, ljudi bi me pitali: "Kad si prvi put razgovarao s tim momcima?" A ja bih rekao, "Prvi put sam ih upoznao u Mabu". A Lars je odgovaro u smislu: "Stvarno? Ne sećam se toga". A Džejms je bio, otprilike, "A? Stvarno?'. Oni se ni ne sećaju toga".
HL/Izvor: ravnododna.com