Ovo su 50 najprodavanijih studijskih rock i pop albuma svih vremena… Manje će vas iznenaditi koga ima, nego koga nema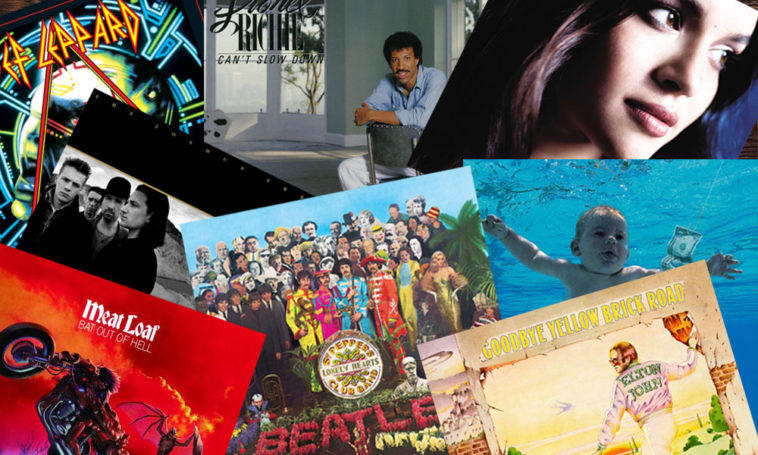 Svi vole liste najboljih, najsupešnijih, najznačajnijih… a portal thisdayinmusic.com napravio je najnoviju listu najprodavanijih rock i pop albuma svih vremena. Ono što ovu listi čini posebnom je što su u obzir uzeti samo studijski albumi, i ne uključuju Greatest Hits, soundtracks ili kompilacione albume.
Kad smo kod te vrste izdanja, Eagles "Greatist Hits 1971-1975" nedavno su nadmašili "Thriller" Majkla Džeksona kao najprodavaniji album svih vremena. Soundtrack albumi "The Bodyguard", "Saturday Night Fever" i "Grease: The Original Soundtrack" takođe su među 10 najprodavanijih albuma ikada.
I još malo statuistike pre nego što pređemo na stvar: Pet od prvih deset najprodavanijih albuma na svetu objavljeni su tokom sedamdesetih, a najviše albuma na celoj listi je iz devedesetih (16 albuma), za jedan više od osamdesetih (15). Britanski umetnici zauzeli su samo 15 mesta na listi. Selin Dion ima tri albuma, The Beatles, Pink Floyd, Britney Spears, Madona, Eminem, Adel i Majkl Džekson imaju po dva albuma na listi.
Zanimljivo je da na listi nema nijednog albuma Boba Dilana, Rolling Stonesa, Dejvida Bouvija, Queena i još uvek (ali ne još zadugodugo) Eda Širana.
U svakom slučaju, ovo su najprodavaniji studijski albumi u istoriji:
50. Lionel Richie – Can't Slow Down (1983) 20m
49. Green Day – Dookie (1994) 20m
48. George Michael – Faith (1987) 20m
47. Celine Dion – The Colour of My Love (1993) 20m
46. Britney Spears – Oops!… I Did It Again (2000) 20m
45. Boston – Boston (1976) 20m
44. Madonna – Like a Virgin (1984) 21m
43. Adele – 25 (2015) 22m
42. Oasis – (What's the Story) Morning Glory? (1995) 22m
41. Whitney Houston – Whitney Houston (1985) 22m
40. Ace of Base – Happy Nation/The Sign (1992) 23m
39. Spice Girls – Spice (1996) 23m
38. Backstreet Boys – Millennium (1999) 24m
37. Def Leppard – Hysteria (1987) 25m
36. Britney Spears – …Baby One More Time (1999) 25m
35. U2 – The Joshua Tree (1987) 25m
34. Simon & Garfunkel – Bridge over Troubled Water (1970) 25m
33. Phil Collins – No Jacket Required (1985) 25m
32. Carole King – Tapestry (1971) 25m
31. Madonna – True Blue (1986) 25m
30. Norah Jones – Come Away with Me (2002) 27m
29. Eminem – The Eminem Show (2002) 27m
28. Mariah Carey – Music Box (1993) 28m
27. Bon Jovi – Slippery When Wet (1986) 28m
26. Elton John – Goodbye Yellow Brick Road (1973) 30m
25. Guns N' Roses – Appetite for Destruction (1987) 30m
24. Santana – Supernatural (1999) 30m
23. Pink Floyd – The Wall (1979) 30m
22. Nirvana – Nevermind (1991) 30m
21. Dire Straits – Brothers in Arms (1985) 30m
20. Bruce Springsteen – Born In The U.S.A. (1984) 30m
19. The Beatles – Abbey Road (1969) 31m
18. Metallica – Metallica (1991) 31m
17. Celine Dion – Let's Talk About Love (1997) 31m
16. Adele – 21 (2010) 31m
15. Michael Jackson – Dangerous (1991) 32m
14. Linkin Park – Hybrid Theory (2000) 32m
13. The Beatles – Sgt. Pepper's Lonely Hearts Club Band (1967) 32m
12. Celine Dion – Falling into You (1997) 32m
11. Alanis Morisette – Jagged Little Pill (1995) 33m
10. Eminem – The Marshall Mathers LP (2000) 35m
9. Michael Jackson – Bad (1987) 35m
8. Led Zeppelin – Led Zeppelin IV (1971) 37m
7. Shania Twain – Come On Over (1997) 40m
6. Fleetwood Mac – Rumours (1977) 40m
5. Eagles – Hotel California (1976) 42m
4. Meat Loaf – Bat Out of Hell (1977) 43m
3. Pink Floyd – The Dark Side of the Moon (1973) 45m
2. AC/DC – Back In Black (1980) 50m
1. Michael Jackson – Thriller (1982) 66m