DAN KAD SU RIČARDS, KLEPTON I LENON BILI ZAJEDNO NA SCENI… The Rolling Stones objavljuju reizdanje 'Rock And Roll Circus'
The Rolling Stones su najavili deluxe reizdanje svog klasika "The Rock And Roll Circus" s verzijom pred publikom uživo u Londonu prvobitno zamišljenom kao posebna televizijska emisija ta BBC, u režiji Miajkla Lindzi-Hoga, autora filma "Let It Be".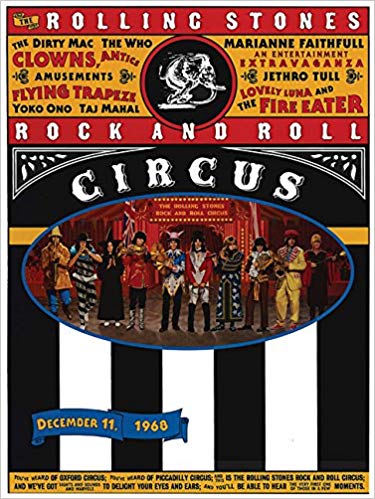 – Snimanje je bilo neverovatno, mislim da je trajalo 36 sati – rekao je Kit Ričards o istorijskom danu '68. godine. – Sećam se da se pred kraj nisam više ničega sećao… ali bilo je zabavno.
Sada, 7. juna, u SAD i 28. juna u Britaniji, "The Rolling Stones Rock And Roll Circus" dolazi restauriran u 4K Dolby Vision formatu na Blu-rayju i DVD, sa remiksom soundtracka proširenim na 28 pesama na dvostrukom disku, odnosno trostrukom vinilu.
Na koncertu su nastupili i The Who, Jethro Tull, Taj Mahal, Marijana Fejtful, Yoko Ono i 'supergrupa' The Dirty Mac čiji su članovi Erik Klepton, Kit Ričards, Mič Mičel iz The Jimi Hendrix Experience i Džon Lenon. Upravo njihove neobjavljene pesme, poput verzije klasika Beatlesa "Revolution", naći će se na novom izadnju, kao i snimci pokojnog koncertnog pijaniste Džulijusa Kačena kao i tri dodatne pesme Taj Mahala.
Ograničeno izdanje uključuje film na Blu-Rayju i DVD-u, prošireni soundtrack na 2 CD-a i uvezenu preklopnu knjigu od 44 stranice koja uključuje izvorni esej iz Rolling Stonea Dejvida Daltona iz 1969. kaoi fotografije sa seta Majka Rendolfa.
HL/Izvor: ravnododna.com