Indirekt Showcase Festival od 11. do 13. oktobra u Beogradu… 3 dana, 4 lokacije, 20 koncerata

Četvrto izdanje Indirekt Showcase Festivala održaće se od 11. do 13. oktobra u Beogradu, na četiri lokacije: Atom Akademija, Soul Society klub, Dorćol Platz i SAE Institut.
Indirekt je međunarodni festival nezavisne muzike i umetnosti koji se u Beogradu održava od 2015. i iz godine u godinu okuplja sve veći broj mladih ljudi i stručnjaka iz sveta muzike, kako iz naše zemlje tako i iz Evrope.
Ovogodišnji program predstavlja više od 20 muzičkih nastupa koji će biti održani na tri lokacije: Atom Akademija, Soul Society i Dorćol Platz.
Konferencijski program biće realizovan u prostorijama škole za kreativne medije, SAE Instutut.
Atom Akademija
Četvrtak, 11. oktobar
– Ivica (indie rock izvođač iz Pančeva), Ki (indie elektronski bend iz Makedonije) i Slonz (andergraund rock sastav iz Šapca).
Petak, 12. oktobar
– The Siids (indie/electropop/rock bend iz Hrvatske), Next Ex (synth-pop bend iz Bukurešta) i Killedbycar (elektronski indie rock trio iz Poljske).
Subota, 13. oktobar
– Visions In Clouds (post-pank i new wave kvartet iz Švajcarske), Vin Triste (alternativni rok bend iz Beograda) i Tús Nua (Hrvatska).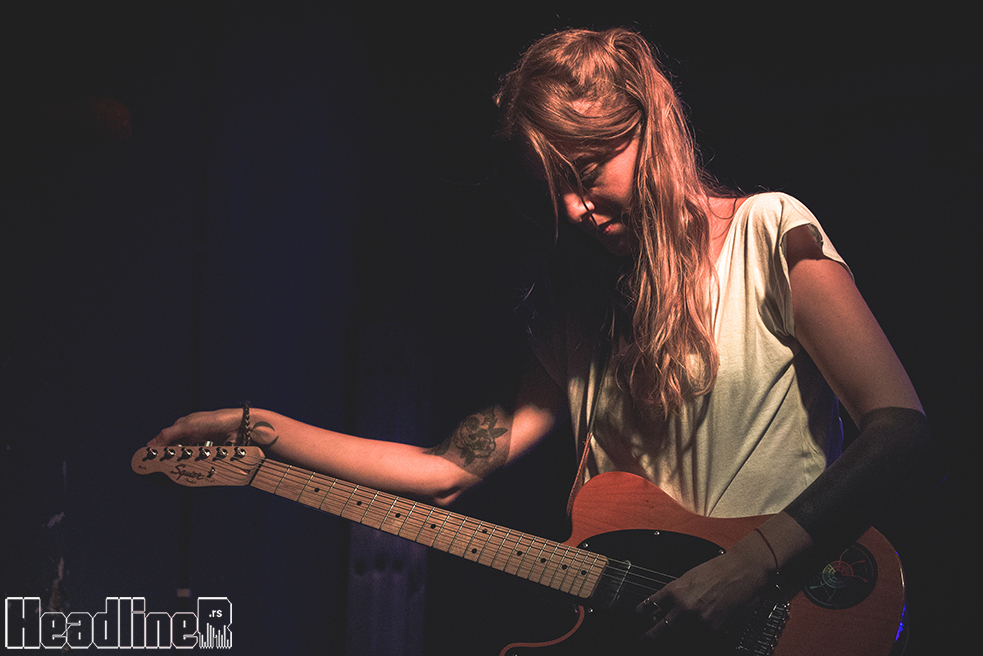 Klub Soul Society
Petak, 12. oktobar
– Ivata (trip-hop, darkwave i psychedelic sastav iz Moskve), Bullet for a Badman i Vera Jonas Music (Mađarska),
Subota, 13. oktobar
– Ichabod (Hrvatska), Passed (indie electronic pop bend iz Mađarske) i Dingospo Dali (alternativna rock grupa iz Beograda.
Dorćol Platz
Petak, 12, oktobar
– Lucia (rumunska indie/pop pevačica), The Black Room (rok bend iz Rijeke) i Virvel (indie/rock bend iz Beograda).
Subota, 13. oktobar
– Radio Slam (poljski rok sastav), Igralom (Niš) i Sergio Lounge (Beograd).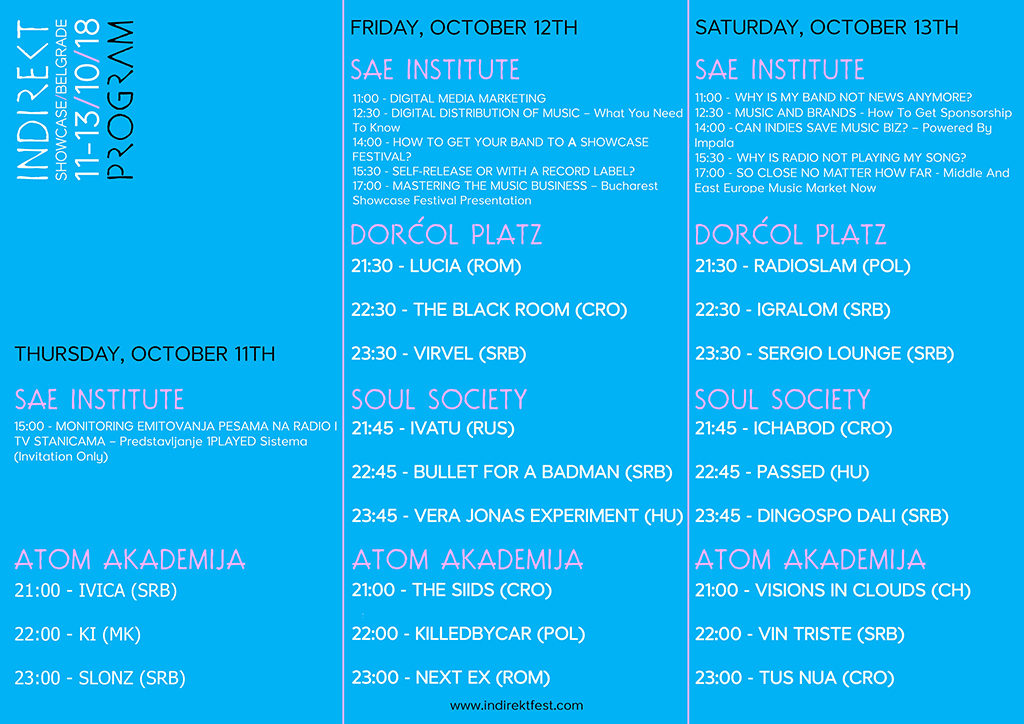 Oko 60 učesnika iz cele Evrope ove godine će na konferencijskom programu govoriti o nezavisnom izdavaštvu, digitalnoj distribuciji i edukaciji muzičara iz oblasti muzičke industrije.
Tako će Indirekt ugostiti predsednika Impale, najveće evropske asocijacije nezavisnih izdavača, predstavnike izdavačkuih kuća kao što su Universal Music, IDJ, Dallas records, Bassivity digital, urednike medija kao što su Play radio, Naxi, Blic, RTS, Radio Beograd, Muzika.hr, Noizz, Hardrock i predstavnike festivala kao što su Exit, Beer fest, Lovefets, Arsenal fest, SeaRock.
Pored domaćih predstaviće se i gosti iz Rumunije, Poljske, Bugarske i Mađarske.
Novina ove godine su Listening Sessionsi za mlade muzičare, pa će tako njihove autorske radove slušati Coby, Reksona, Gramophonedzie, Andrew Meller, Calavera Manya, Nebojša Indruder, Pookie i urednici medija.
Konferencijski program se realizuje u partnerstvu sa SAE Instututom i Asocijacijom nezavisnih izdavača Evope – Impala.
Posedno se ističe prezentacija monitoring sistema 1Played, prvog dana konferencije, koji u realnom vremenu skenira emitovanja pesama na radio i TV stanicama i time rešava problem autorskih prava.
Festivalske akreditacije (komplet) po ceni od 2.000 dinara podrazumevaju ulaz na dnevni program – panele i radionice, kao i večernji muzički program za sva tri dana i sve tri lokacije.
Dvodnevna ulaznica košta 1.200 dinara, jednodnevna ulaznica za sve lokacije 700 dinara i jednodnevna za jednu lokaciju 500 dinara.
Prodajna mesta: Beograd (Leila Records, Yugovinyl shop), Novi Sad (Mungos shop) i Niš (Vintage shop).