Bili smo na Sunday Metal Matineu u Festu…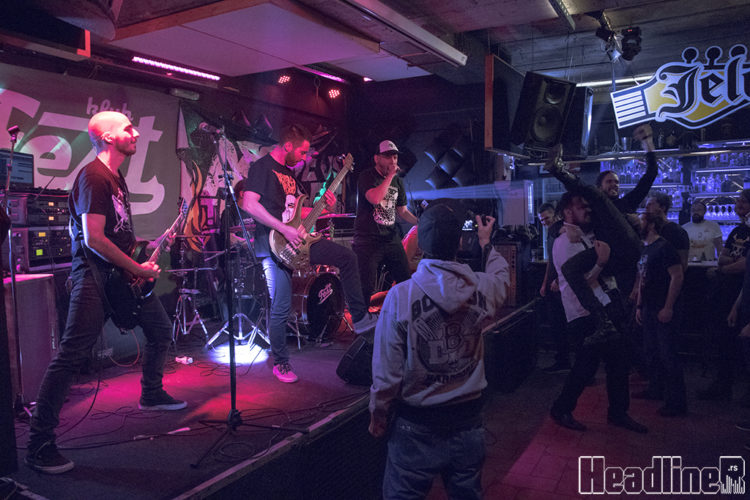 I tako, proveli smo nedelju na metal matineu u zemunskom klubu Fest uz bendove: Arc Light (Inđija), Evervoid (Inđija), Vicery (Beograd), Sides (Beograd) i Above Us The Waves (Kavala, Grčka).
Zanimljiv koncept, opuštena atmosfera, sjajno druženje publike i bendova, prilika da se upoznamo sa nekim novim licima na sceni ali i da se podsetimo nekih "starih".
Arc Light
Prvi bend koji je nastupio nakon poslepodnevnog chill warm upa (koji se očigledno dopao prisutnoj publici jer je trajao duže nego što je najavljeno) bio je Arc Light.
Mladi death/thrash metal bend iz Inđije osnovan prošle godine predstavio se u Festu obradama pesama poznatih death i thrash metal bendova. Iskreno se nadamo da ćemo uskoro od njih čuti i neku autorsku stvar.
Evervoid
Još jedan bend iz Inđije predstavio se u nedelju publici u Festu. Evervoid je formiran 2011. godine iz želje da se svira old school melodic death metal.
Trenutno sviraju obrade obradepesama bendova kao što su: In Flames, At The Gates, Kalmah, Arch Enemy, Amon Amarth, Dissection… a ekipa radi i na pripremanju materijala za prvi EP.
Vicery
Treći bend koji je nastupio na Nedeljnom matineu bio je beogradski Vicery. Eksperimentalni death metal bend koga su u leto 2016. godine osnovali Ivana Momčilović (vokali) i Elio Rigonat (svi instrumenti).
Bend je 28. decembra prošle godine objavio svoj prvi EP pod nazivom"Vicery", a 10. avgusta i prvi album benda "Devolution…"
Sides
Energični beogradski Sides definitivno je razmrdao publiku u Festu. Ovaj metalcore/djent bend iza sebe ima tri singla i trenutno snimaju prvi EP.
Zbog zdravstvenog stanja bubnjara bili su neaktivni oko godinu dana, a sudeći po onome što su pokazali – svirka im je baš nedostajala.
Above Us The Waves
Za kraj večeri – Above Us The Waves, petočlani bend iz Kavale koji drugi put dolazi u Beograd.
Simpatični i energični Grci čiji zvuk sadrži elemente melodičnog death metala i hardcorea bili su dostojna završnica metal matinea u Festu.